Check out our interactive nature trail map HERE. We apologize for the loss of bird photos on this page. We hope to have this upgraded and available soon.
Woodland Dunes offers several hiking trails that allow visitors to explore the 1,500-acre preserve that includes beautiful habitats such as woodlands, meadows and marshes. All trails are relatively flat and easily hiked, ranging from ¼ – 2 ½ miles long.  In winter, trails are open for cross- country skiing, although not groomed. Trails are open from sunrise to sunset. Trail maps can be picked up at the Nature Center office or you may download a PDF of the trail map. Maps are also stocked in the metal mailbox by the orientation sign near the red barn at the Nature Center.
Trail Etiquette
We seek to protect a delicate and vital natural environment, not only for all the wildlife and plant species that live here, but for generations of families looking to connect with the natural world. Please help us in our preservation efforts by following these simple rules:
Stay on the trail – Our forest floor and wetlands support many species of birds, animals and plants. If you venture off the path you may be harming a precious environment.
No pets – Domesticated animals can be very harmful to the wildlife and plants established in our natural area. An exception is the Ice Age Trail, where pets on a leash are allowed.
No bicycles, snowmobiles or other vehicles – Our trails are designed for the enjoyment of their unique natural surroundings. Slow down and take the time to observe the beauty of nature.
No smoking –  Cigarette filters can be harmful to animals and birds. 
Trails beginning at the Nature Center:
Harold Alyea Tower: Get a bird's eye view of the wetlands from this 30-foot tower located next to the Nature Center. This two-story tower overlooks the West Twin River and has a viewing scope on the second story. Check out the Osprey nest across the yard!
Willow Trail (0.9 mile): This trail passes through diverse habitats, starting with shady shrub carr. After emerging from the cool shrub carr, the trail enters an open meadow, which is a native prairie planting. It is particularly breathtaking from mid-summer to late fall. The Goldenrod Loop takes you around Todd's Pond, where you can pause to enjoy the peace and serenity of this wetland, often full of dragonfly activity. Continue along Willow Trail through meadows and shrubland, then take the Horsetail Loop to visit one of the largest trees in Manitowoc County. The final part of the trail, about a quarter of a mile, takes you to the bank of the West Twin River, and an observation deck with an informative sign.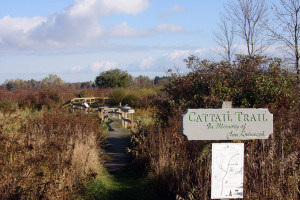 Cattail Trail (0.3 mile): The whole family will enjoy this boardwalk that meanders through a shrub swamp, a sedge meadow and a cattail marsh where birds and wetland animals live or visit. Signs along this trail introduce you to the plants and animals found there.
Trails near the Nature Center:
Conifer Trail (0.5 mile): Conifer Trail starts about two blocks from the Nature Center, on Columbus Street. Signs on the west side of the road identify the trailhead. This unique trail follows two ancient beach ridges, crossing a swale in between. You will walk through a mixed hardwood forest.
Ice Age Trail Woodland Dunes segment (2.25 miles): This segment of the Ice Age Trail runs through the Woodland Dunes Preserve and is concurrent with Trillium Trail for part of its length. It is marked by yellow blazes. Unlike other Woodland Dunes trails, the Ice Age Trail is open to dogs on leash, however, they must stay on the trail.
Trails beginning on Goodwin Road:
Yellow Birch Trail (0.3 mile): This boardwalk takes visitors through woods and wetland where many rarer birds, amphibians and plants can be seen.
Black Cherry Trail (0.8 mile), Trillium Trail (1.5 miles): These two trails meander through the swales and ridges of an ancient beach. You'll pass through upland mixed hardwoods and a wooded swamp, and may see amphibians, birds and Canadian Carpet plants in summer. Several small bridges cross seasonally wet swales. Open for skiing in winter. The Ice Age Trail follows through a portion of the Trillium Trail.
Coneflower Trail (.74 mile): Circle through Woodland Dunes' prairie plants, listen to grassland bird songs, observe pollinators foraging, and enjoy the changes from one season to the next.