Preservation of wildlife and valuable habitat doesn't end with the purchase of land. If we understand how ecosystems function, there are many ways we can help them along. Woodland Dunes is a large preserve with many species of plants and animals residing here. Our land management goals include maintaining the diversity of those species because diverse ecosystems tend to be healthy and resilient ecosystems, more able to withstand disturbances of many sorts.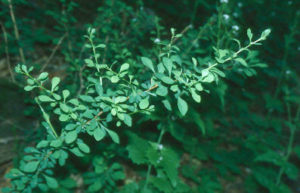 A major threat to the diversity within our ecosystem is that posed by invasive, non-native (or exotic) species that have been brought here from other parts of the world by people. There are many such species which, without other species in place to control them, can overpopulate and wipe out our natives. At Woodland Dunes, our main problems involve Eurasian honeysuckles, common and glossy buckthorn, Japanese barberry, reed-canary grass and common reed grass (Phragmites australis). These invasives require management and restoration with native plants. Often the invasive plants are cut and a small amount of herbicide is applied to the cut stem, and then native species are planted. This is a daunting, long-term project for our staff and volunteers, but one that is necessary and worthwhile.
Because our preserve is located near the shore of Lake Michigan, a significant route for the travel of migratory birds, we include many species of plants in our restoration areas which provide food (fruit or seeds) for migrating songbirds and trees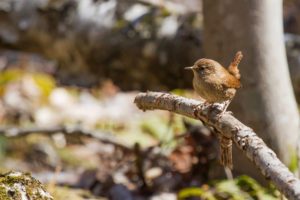 which provide cover for them. We are improving Woodland Dunes as a migratory stopover area for songbirds to help them during the most difficult times of their lives. We also work with adjacent landowners to help them improve their land as well. If you would like to volunteer to help with this effort, please contact Jennifer Klein at jenniferp@woodlanddunes.org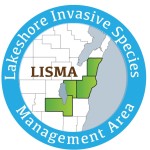 Lakeshore Invasive Species Management Area (LISMA): a broad-based coalition that promotes effective management of invasive plant and animal species throughout a 4-county region of Fond du Lac, Calumet, Manitowoc and Kewaunee Counties.
Invasive Plants Association of Wisconsin: Invasive, non-native species of plants and animals compete with our native species and cause serious habitat degradation, and threaten Wisconsin's ecosystems.