Woodland Dunes Nature Center's genesis began in 1965 when local resident Bernie Brouchoud began catching, banding and releasing birds on what is now Woodland Dunes Nature Center property. Little did he know that his hobby would evolve into a lifetime passion of wildlife preservation and the education of Manitowoc County and area youngsters.
It wasn't long before Brouchoud, a federally licensed bird bander, and a small group of interested junior high students were making regular visits to the area during weekends. Keenly aware of the value of this land as a bird migration stopover and nesting area, this group established a bird banding research station.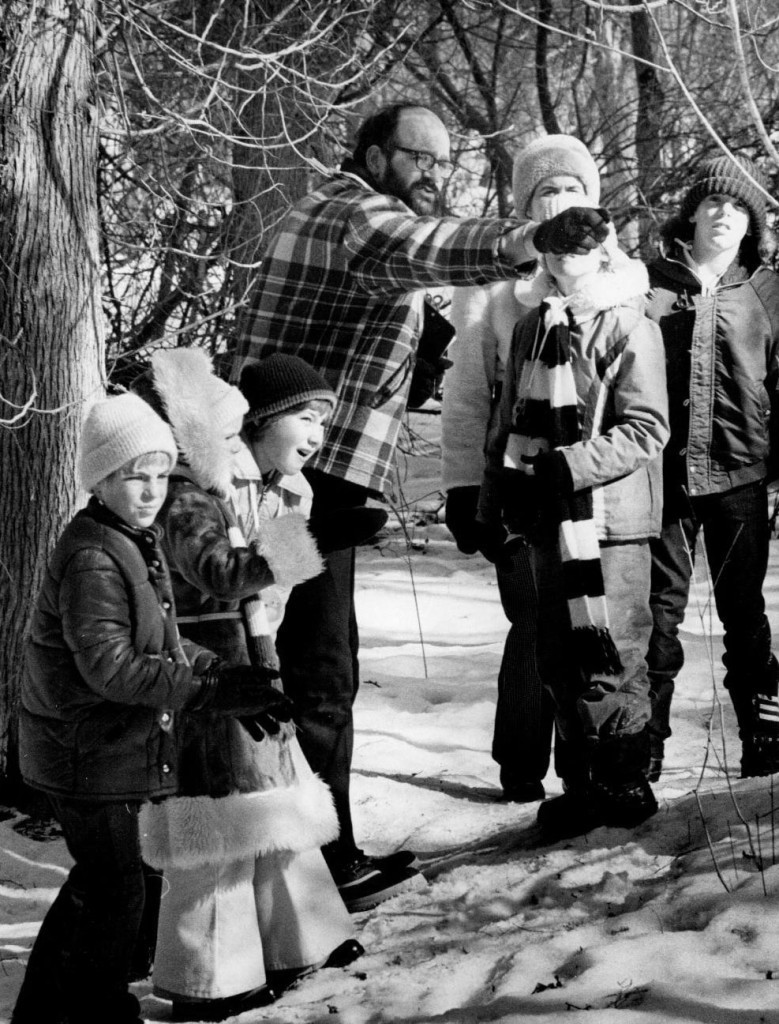 Interest in the area and support grew as bird watchers, hikers, and school children visited the banding station and became intrigued by the valuable experiences the site had to offer. As more and more people visited the area and new facts were uncovered about the great variety of life which occurred there, it became apparent that the land should be preserved for future generations to enjoy.
Brouchoud stated that he, "never has seen a place like this as far as variety and uniqueness."
The geologically-unique area offers a great diversity of ecological habitats, including marsh, sedge meadow, shrub carr, old field, native grassland and the rare forested dunes and swales.
In 1974 an organizing committee was formed headed by Brouchoud. The plan of this committee was to preserve approximately 1,200 acres with an additional goal of some day erecting a nature center that would serve not only as an educational resource for all the people in the area, but for all those people that would be attracted to the site once it became better known.
The committee formed its board of directors, began a membership drive, created its Dunesletter newsletter and began to submit weekly articles to the Manitowoc Herald Times, the area's daily newspaper (now the Herald Times-Reporter).
Thus, Woodland Dunes officially began, quickly expanding and gathering membership including people and organizations who were helpful in developing the project.
During these early days, members raised funds through recycling, bake sales, car washes, etc.
An early boost was the involvement of Natural Areas Preservation, Inc,. a non-profit organization formed for the specific purpose of preserving such land in many areas of Wisconsin. This organization, and with the help of Gordon Bubolz of Appleton, offered guidance to the Woodland Dunes board, and when land became available for purchase aided in the negotiations.
Additional help was provided by a successful application for government grants to cover the hiring of early Woodland Dunes employees.
In 1974, the first land purchase of 40 acres was made at a cost of $6,000 dollars.
Brouchoud became executive director in 1976 and worked full-time in that capacity until 2004.
Land was acquired in parcels ranging from one to 115 acres as funds would permit over the ensuing 34 years, entirely from donated funds and grants. Nature trails were added as funds permitted as were educational programs for school children.
Today, Woodland Dunes Nature Center's preserve covers over 1,500 acres and is home to more than 400 species of plants, 220 species of both resident and migratory birds, 40 species of mammals (including human visitors), 10 species of amphibians, and thousands of species of invertebrates. Thousands of visitors explore the preserve and attend education programs and events each year.