Woodland Dunes has continued to learn and adapt to Covid-19, always keeping the health and safety of its visitors in mind. We follow local health department guidelines and require registration for all programs. Please, do not attend a program if you are feeling sick or have any symptoms of illness. To register for a program call 793-4007 or email Jess at jessicaj@woodlanddunes.org  
Adult Programs
Woodland Dunes offers programs for adults in our community. These programs are listed on our upcoming events calendar. Most special events such as Owl Fest, when applicable, and Bird Breakfast include hikes and presentations geared for our adult visitors.
Photo Policy: Woodland Dunes may take photos or video of participants in programs, activities or events. These photos may appear on our website, social media or used in presentations. If you or your family members do not wish to be photographed, please let a staff member know.
Bus & Group Tours
Looking for a special excursion for your group?  Give us a call or email ahead of time so we can actively engage your group while visiting our unique preserve. Pricing is determined by amount of activity, time commitment, and staff needed. Explore the prairie, marsh, woodland or forest with a knowledgeable staff member. Please email nancyn@woodlanddunes.org for more information and to discuss your options.
Scouts and Youth Groups
Contact us to set-up a specialized program for your group or to get information on where to explore.  Exploring the preserve on your own is free, however donations are appreciated and suggested for non-members.  Rent-a-naturalist rates will apply to any group with 8 or less participants that would like a program from our staff.  Groups over 8 will be charged a fee for each individual participant depending on program length and content.  Please check our Citizen Science page to find great opportunities for your group to get involved in research projects!
Geocaching
Geocaching is a high-tech treasure hunting game played throughout the world by adventure seekers equipped with GPS devices. The basic idea is to locate hidden containers, called geocaches, outdoors and then share your experiences online. Geocaching is enjoyed by people of all age groups who have a strong sense of community and support for the natural environment.  To get started go to www.geocaching.com, enter the Two Rivers zip code 54241 and you will find information on all the geocaches in the area. Woodland Dunes currently has 6 geocaches located along our trails. When geocaching all trail guidelines still apply – all caches are accessible from our current trail system, without venturing into protected areas.
Little Wings Natural Play Area and Children's Room
Little Wings is an outdoor natural playground designed to ignite creative, outdoor play. The playground was created in honor and memory of Helen Dicke Krivacek, a foundational member and long-time volunteer at Woodland Dunes. Little Wings is located in the front of the nature center building and is open from dawn until dusk. Access to indoor bathrooms is available during regular business hours; an outdoor bathroom is available on site May – November. Benches and a raised deck are available for parents and chaperones to relax as children explore or have a picnic. Supervision is not provided, please be responsible and keep track of your children while using this facility.
Little Wings features all-natural play opportunities such as:
Flowing Stream: A small running river with shallow ponds and stepping-stones will keep your children occupied as they search for water critters and splash in the pools.
Building Area: A portion of the play area has trees and fort building materials to tempt budding architects.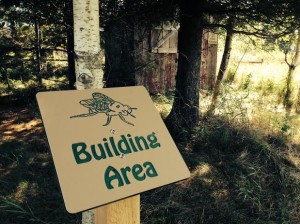 Nature Art and Music Area: An art table filled with natural objects, wind chimes and a musical instrument allows for creative play and design. 
Prairie Maze: Kids can scurry through the maze like a mouse, hide quietly among the flowers, or observe insects.
Bird Landing: An area with bird feeders allows for kids to observe and watch wildlife.
Ridge and Swale: Climb to the top of the ridge and roll down into the sandy swale, or crawl through the tunnel and find where it leads.
Mulberry Bridge: Children can safely climb the steps up Mulberry Bridge and explore the mulberry tree. Tasting the berries is encouraged!
Happy Hideaway: A fun, kid-sized house for imaginative play.
Little Wings Children's Room CLOSED DURING COVID-19 PANDEMIC:
This room is located inside the Nature Center and is open during regular business hours. Microscopes, insect nets, magnifiers and more are available for children to further explore the outdoors. You will also find field guides, books and seasonal activities to further engage your child.
Looking for even more fun for your family? Check out the Adventure Backpack! This backpack is full of activities that are easy to do and enhance the time you spend in the preserve. In winter learn about tracks and bird nests; in summer look for amphibians. The activities change seasonally, so check out the Adventure Backpack often. The backpack is free to use, just talk to a Nature Center employee when you arrive for details.
Thank you to Pivot Rock Fund and Cellcom's Green Gifts Foundation for helping fund our education programs.