Unique among North American raptors for its diet of live fish and ability to dive into water to catch them, Ospreys are common sights soaring over shorelines, patrolling waterways, and standing on their huge stick nests. These large  hawks do well around humans and have rebounded in numbers following the ban on the pesticide DDT.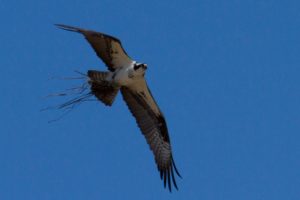 Interesting facts about Ospreys:
An Osprey may log more than 160,000 migration miles during its 15-to-20-year lifetime.
Ospreys are unusual among hawks in possessing a reversible outer toe that allows them to grasp with two toes in front and two behind. Barbed pads on the soles of the birds' feet help them grip slippery fish. When flying with prey, an Osprey lines up its catch head first for less wind resistance.
Ospreys are excellent anglers. Over several studies, Ospreys caught fish on at least 1 in every 4 dives, with success rates sometimes as high as 70 percent. The average time they spent hunting before making a catch was about 12 minutes.
The Osprey readily builds its nest on man-made structures, such as telephone poles, channel markers, duck blinds, and nest platforms designed especially for it. Such platforms have become an important tool in reestablishing Ospreys in areas where they had disappeared.
Osprey eggs do not hatch all at once. Rather, the first chick emerges up to five days before the last one. The older hatchling dominates its younger siblings, and can monopolize the food brought by the parents.
Sources: www.allaboutbirds.com and the Cornell Laboratory of Ornithology websites.