Every winter morning reveals new stories written in the snow.  The time spent filling bird feeders first thing in the morning is often the most interesting part of the day.  
 
Last week, some strange tracks turned up in the yard at the nature center- round, cat-like prints but not arranged in the usual neat pattern, and with the marks of something else, like a tail dragging alongside.  Almost as if the animal were staggering, and there were occasional drops of fresh blood along the trail.  The tracks led to the barn door, which has a gap through which the animal entered.  Just inside the door, tucked among some pipes and signs and wooden stakes was the partially eaten carcass of a rabbit.
 

We backtracked, and found large bird tracks near those of the cat, near the barn.  The bird appeared to have landed and walked about in one place, then took off again.  We continued backtracking another 200 feet around our headquarters to where the birdfeeders are located.  There we found more large bird tracks, signs of a struggle, and the rabbit's innards.  The bird tracks appeared to be those of a great-horned owl, one of the main predators of rabbits.  It appeared that the owl may have killed the rabbit near the bird feeders and had begun to feed, only to have the rabbit taken by a cat, which awkwardly carried the rest of the carcass to the barn to hide or "cache" the remains for a later meal.  The owl appeared to have followed the cat as evidenced by the second set of owl prints near the barn.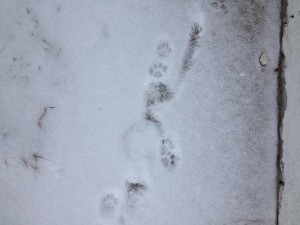 Another scenario might have the rabbit killed by the cat, which was happened upon by the owl.  Great-horns prey on cats as well, but the condition of the rabbit (head missing) would seem to indicate that an owl was involved in its death.  
 
Later that day, the half-rabbit disappeared from the barn.  Apparently our discovery of it caused whatever hid it there to become uncomfortable and it felt the need to move it.  We placed a trail camera in the barn where the rabbit carcass had been, and sure enough recorded photos of a large, fluffy cat.  
 
I thought of calling this article "CSI:Dunes", but really, this isn't a crime scene at all.  The purpose of everything in nature is to survive, and to survive creatures have to eat.  I don't think that wild predators have a great deal of animosity toward their prey or kill out of malice.  At least no more than we have for pizza.  I do, however, wish that cat had a nice indoor home.