by Nancy Nabak Communication Coordinator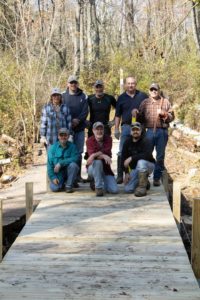 We're in the heart of November now, and as we say goodbye to our migrant friends, we also say hello to the upcoming Thanksgiving holiday.
Colored leaves, acorns, and turkeys are collective images that come to mind when we think of Thanksgiving. Our bright, colorful flowers have turned to seedheads of brown and gold. Orange gourds placed decoratively at the table remind us of a pure earth harvest. These gifts, these plants and animals of the earth, are blessings we acknowledge not only on this holiday, but throughout the year.
Yet, there is one more gift that I am truly thankful for this season – the many volunteers we have at Woodland Dunes. Over the past year, we have had more than 140 volunteers put in over 2,000 hours of incredibly valuable work time.
These selfless workers have helped in a variety of ways, but all of them are equally important. We have volunteers with gardening talents who help us maintain our Dorothy Star Butterfly & Bee Garden.  Some help repair and maintain our trail systems. Others plant trees. Some like to plan and create special events. All bring different talents to the table, but they all help make things click and tick at the Dunes like a fresh-batteried clock.
We have volunteers who lead bird hikes during migration seasons to teach the joy of birding to beginning and seasoned birders alike. We have volunteers who show children how fun it is to look for salamanders in a swale. We also have volunteers who greet our guests at the front desk and tell them about our wonderful trail systems and Nature Center.
Bird surveys, moss surveys, mushroom surveys – all assisting science, are conducted here by volunteers. Owl banding is done with the help of volunteers. Removal of invasive plant species on our Preserve is a constant job and always with the help of volunteers.
I know that my gratitude is shared by all of us at the Dunes. Without these wonderful people to help us reach our goals, our community wouldn't be as strong or as special as it is. These generous-spirited people assist in keeping things at the Dunes better than okay. I would say experiences here are extraordinary and wondrous because of them.
We currently have the federally endangered rusty patched bumble bee living on our Preserve. If we didn't have volunteers to help us in other areas of need, we couldn't spend the time or resources to help bring this amazing pollinator animal back from the brink of extinction. This is only one example of how volunteers keep Woodland Dunes special. And our community and corner of the world special.
This Thanksgiving, we thank all of you who have supported us with your time and talents. You do make a difference in the big picture. For that, we give thanks.
photo of volunteers who built new Trillium Trail boardwalk by Sue Crowley