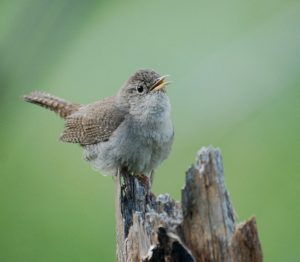 For nature lovers, the recent cool spring weather is a mixed blessing. Of course, we're all tired of windy 45 degree days, some sprinkled with rain.  The earlier week of warm weather seemed to quickly kick spring into gear, greening up the grass, budding the trees, and forcing the daffodils and magnolias suddenly. Then, the return to reality slowed everything way down.  Spring still progressed, but at a slower pace that allow us to enjoy it for a longer time. This week we began a small fencing project that brought us to a quiet little corner of the nature preserve where we were able to catch up on the outdoor world. 
Recently, birds returned in waves- suddenly white-throated sparrows and ruby-crowned kinglets were everywhere after the warm snap, but the cool after has caused them to linger. They don't want to fly into a fierce headwind.  However, even when it's 45 outside, if you find a sunny spot out of the wind, the incredibly enthusiastic songs of the kinglets are delightful, along with increasing numbers of other birds. Not quite the showy orioles and grosbeaks yet, but the more subtle (in appearance) members of their kin. Today I heard the first house wren for the year in our preserve- a song almost as energetic as the kinglet's.  And a towhee.  And a boldly singing goldfinch, dressed in his summer yellow now. As we worked in the mud, tree swallows flew overhead, a pileated woodpecker sang from the woods, and a number of blue jays called harshly from all four directions. We were hoping to hear ravens, which may be nesting nearby, or a red-shouldered hawk which appeared to stay all winter, but they decided to be elsewhere today.
In the swamp, marsh marigolds are beginning to bloom. The alders are blooming too, and willows are in various stages depending on the species. As we dug for  our post installing mission, we were pleasantly surprised by the trees and shrubs slowly colonizing the old farm field in which we worked- red-osier dogwood, yellow dogwood which we planted a few years ago, different willows, birches, alders, popples, and balsam poplar, all beginning to bud. There were a couple of invasives- buckthorn and honeysuckle, which we'll have to come back for later.  And the poor ash trees- the last to bud in spring, and even then often clipped by frost- they seem to be so sensitive.  They already show signs of woodpeckers chipping back their bark to get at the grubs of the emerald ash borer. They won't be with us long, sadly, but we've planted as many trees as we can to take their place.  
And on the ground beneath the trees, the early greens of wild strawberries, brome grass and purple top, goldenrods, and a number of sedges, some of them in hummocks, indicating that this is indeed a wetland, and if not for the trees it would want to be a sedge meadow.
This May is still early spring in our part of Wisconsin, as far as nature is concerned. The fact that it isn't moving along too quickly gives us a chance to appreciate all of the many, many parts of the natural world, and realize that they all are tied to each other. We only experience this re-awakening for a short time each year, and we're lucky to have a little extra time to savor and marvel at it. Soon the leaves will be out and the world will be dominated by an exquisite green mantle, unfortunately obscuring the wonderful little songbirds as they arrive from the tropics. But, the leaves make us work harder to see that which we seek, also making the glimpses we are granted even more.
As winds turn south, a tide of both birds and new growth will envelop us. One doesn't have to try to be everywhere to experience that- using one place as a quiet reference reveals amazing things about our seasons. Even if you're just digging post holes.