Written by intern, Ariana Zimney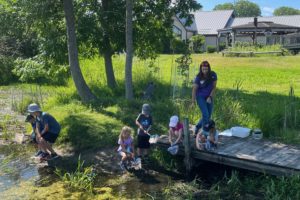 When I was younger, I always had a yearning for seeking the world around me and learning as much as I could from it. From middle school summers spent playing in the woods behind my house, to fishing with my family, having my dad quiz my leaf identification skills, and reading as many books as I could, I was hungry for the outdoors. I always wanted to learn about the natural world around me. I gained a love and appreciation so deep that I have made it my passion as well as my career path.
While staring adulthood right in the face and asking "What do you want to do for the rest of your life?" may be utterly horrifying, I have begun to understand that it is not just one big decision. There can be stepping stones along the way that help you along your journey, challenging and growing you in unexpected ways while showing you more about yourself in the process. Everyday can be filled with something different, from learning new bird calls, understanding just how deep prairie grass roots are, or even that there is an invasive freshwater jellyfish sometimes found in Wisconsin (thanks Jim!), the opportunity to learn is endless. And Woodland Dunes understands this to their core, revolving their entire mission around further educating as many people as they can. 
This summer, I have been lucky enough to be the Education Intern, and wow, is it rewarding! Not only is teaching kids a whirlwind of silliness, but it goes much deeper than that. I had a student ask me what I do for work, confused as to why I wasn't in summer school, and I replied that I got to hang out with really fun kids and teach them very cool things about the natural world. He then prodded, asking why I thought these things were so cool, as all he saw was grass and the occasional mosquito that wanted to bite him. I told him that I would show him…
His group and I went pond dipping for macro invertebrates for about 20 minutes, emptying the contents of our nets into a bucket and pointing out all the invertebrates we were finding. He asked me about a specific invertebrate. We searched for the answer using a dichotomous key and water-critters book, him leading the way and getting more and more excited once he figured out what our invertebrate was. He was telling me facts from the book and was absolutely mind blown that our critter could breathe out of its butt! He looked at me with excitement and joy in his eyes and said that maybe he'd spend more time outside now that he knows all the cool things he can find. And that was a win for me!
It was spectacular to watch the 'ah-ha' moment occur and watch the energy and excitement take hold of the interest of that child. And all of the kids I've been able to teach this summer. Educating the future, one kid at a time. That's the way Woodland Dunes does it; creating a world where education, curiosity, and wonder are available to everyone, everywhere. A place that opens itself up to the community and beyond. And anyone can benefit from it if they are willing to look for themselves and see the huge role Woodland Dunes plays in kick starting that wonder.
photo taken by Jessica Johnsrud