By Max Kornetzke, summer intern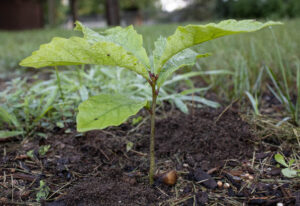 The burr oak is a dominant tree of oak savanna biomes that are more frequently found in the southwestern part of Wisconsin.  Around Northeastern Wisconsin you are more likely to see a burr oak in a woodland setting, which is beautiful in its own right. However, you can get a glimpse of the majestic tree's unfurling crown, characteristic of oak savannas, by looking for the remnant giants of old farm fields. 
The oak savanna biome, like prairies, requires regular fire disturbance to prevent succession into woodlands. Regular fire helps prevent most woody growth from dominating, creating more room for the fire-resistant burr oak tree's branches to unfurl. Fire also creates plenty of light for grasses and forbs to populate the ground. This process generates a unique matrix with both prairie and woodland plants. The result is a beautiful, diverse understory in which much life thrives.
 My love for this diversity moved me to grow some trees from seed. Meandering around last fall, I was led to an old path with an old tree that had freshly dropped hundreds of large acorns not yet nabbed by hungry critters. I filled the bottom of a grocery bag with plump acorns, making sure to thank the tree for sharing. Once I got home, I soaked the acorns in a five-gallon pail and let it sit overnight. With the viable seeds sinking, I scooped the unviable off the surface and added them to the compost. I then drained the water, and placed the soaked seeds in a retired insulated lunch bag, and left (forgot) them for about a month in a cool, dark place outside to stratify.
 When I came back to them, the vast majority of them had produced an embryonic root called a radicle. I had so many viable acorns that I didn't have enough pots to place them in, so some of the extra were taken back to the parent tree and sowed in open spots surrounding it. With a seemingly mild winter approaching, I was able to work outside and pot up most with a handful left in a pail with some mulch.  They were then left to overwinter with some wire mesh for protection.
Not long after the spring ephemerals exploded through the leaves, did I begin to see hairy, reddish stems poke through the thin layer of mulch. Then, rapidly, fresh oak leaves appeared. I was uncertain if the handful left in the container had made it through the winter, but to my surprise their radicles had grown. I potted those up, and several weeks later, they, too, were pushing up through the mulch.
In the end I was left with more oak trees than space to plant. A good problem solved by sharing the abundance. It's a wonderful experience to grow burr oaks trees (and others) from seed and I will certainly repeat this process in the future. I look forward to collecting more acorns each fall and to watching the ones I've planted grow.
Photo by Sue Crowley