The last week has been a very good one for birdwatchers in Wisconsin.  We finally had a few days of southwest winds which not only warmed us but encouraged songbirds to move northward.  Because the wind direction had a westerly component, songbirds may have been pushed eastward until they encountered Lake Michigan and then moved north.  I'm guessing this because we saw large numbers of warblers and other species in suitable habitat, and it seemed that the numbers were higher very close to the Lake.  For example, in a 15-minute period at Neshota Park in Two Rivers, more than 20 species of warblers, thrushes, and other small songbirds were seen in high numbers- certainly more than 100 birds.  That's not including the more than 500 terns and a few gulls that were on the waterfront.  A short time later, counting at my home away from the Lake, there were 13 species of small songbirds, a few dozen in all, on a similar sized parcel counting for the same amount of time.
Some of the songbird highlights include the following warblers: yellow-rumped, Nashville, Tennessee, American redstart, black-throated green, ovenbird, black-and-white, and a half dozen others.  Within our preserve, red-shouldered hawks and a barred owl were also found, along with winter wrens, Swainson's thrushes, blue-gray gnatcatchers, pileated and other woodpeckers, and many other interesting species.  Some of the cedars reminded me of Christmas trees adorned with colorful little bird-ornaments.
Throughout our area, Baltimore and orchard orioles, indigo buntings, rose-breasted grosbeaks, white-crowned sparrows, and other migrants are all passing through as they journey north from Central and South America to their seasonal nesting places.  Hummingbirds too have returned, and haven't forgotten what nectar feeders are for.  A few minutes spent watching bird feeders in mid-May reveals all the colors of the rainbow.
It seems that there were more songbirds seen in our area this season than in the past few years, and it's important to maintain habitat for them to use during migration to allow feeding and resting during their journey so that they can arrive in the north and nest in good condition.  The acts of migration and raising a family are incredibly demanding in themselves, even if food and habitat are good to begin with.
Our Restore the Shore crew has been working to plant native species that benefit migratory birds- things like chokecherry, mountain ash, dogwoods, junipers, and many other trees and shrubs.  We're focusing on Lakeshore areas, including Woodland Dunes itself as well as areas along Mariner's trail, and along Lakeside Blvd. in Manitowoc where people have requested help.  Last Wednesday alone, nearly 300 trees were planted along Mariner's Trail, and Citizens for a Scenic Lakeside have been busy working just south of Red-Arrow Park.  At that location, invasive garlic mustard, honeysuckle, Japanese knotweed, and common reed (Phragmites) are also being addressed.  As if to encourage the activity, a mockingbird showed up to inspect the work.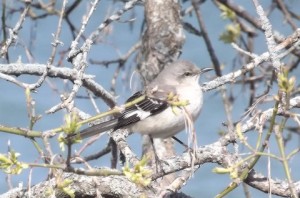 The things we do to improve habitat for birds can also improve the appearance of our neighborhoods, and having plants and birds around us promotes our well-being.  It's not hard to consider the needs of wildlife when improving our properties, and the results are doubly rewarding.