One foot.
Two foot.
Plop!
This past weekend, my 10 month old took his first steps! With every new skill learned, trouble -I mean- excitement follows.
We are all gearing up here at Woodland Dunes for Enchanted Forest and I am hoping my son will be cruising the trails on October 4th! Each stop will have a new animal (costumed), waiting to tell him about themselves and their habitat. He will be mesmerized, soaking up the information like a little sponge.
In today's world, stores have Ipad covers for children 6 months and up. Although these toys can be beneficial, nature is still waiting in the background of your new "selfie."
Our staff here at Woodland Dunes Nature Center is passionate about education. When I am sitting at my computer at work updating our event calendar and planning our next fundraiser, I hear school busses pulling in and children pouring out.
As I walk outside to take pictures with our camera, I see children raising their hands and eager to answer questions. While technology, nature and learning can all
co-exist and actually help each other, sometimes simply stepping outside, breathing fresh air and feeling the grass sneak between our toes gives a sense of relief. Sometimes, it is just that simple in a very complicated world.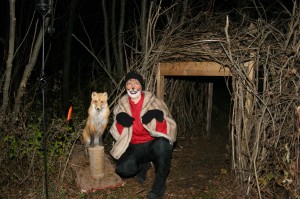 So on October 4th, I encourage you to bring your family and friends to the Nature Center between 4:00-8:00pm. Our trails will be lit with luminaries, welcoming you to explore them. Call the Nature Center at 793-4007 and register for a time to take your hike! Times are starting to fill quickly and there is limited space! Our staff and volunteers will be waiting to meet you!