Fall is an incredibly busy time at a nature center, both inside and out.  School is back in session, birds and other animals are migrating and stopping at the preserve in large numbers, and it's still prime time for habitat restoration work.  Days aren't long enough, and it seems everywhere you look there is something that needs attention.
 
The same is true throughout our area, as there are many groups that are dedicated to protecting and improving the environment in which we live.  Many of the river watersheds have friends groups working to survey and manage invasive species, monitor water quality, and clean up public shorelines.  On our own properties, the same is true- fall is an optimum time to make land more friendly for native wildlife.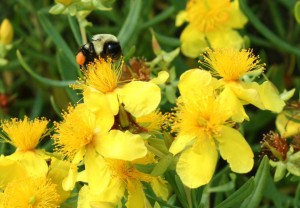 My point is: there are plenty of opportunities  to improve our local environment.  They don't have to be costly or involve government agencies or offend anybody.  There are so many free resources to guide you, and the result will be a cleaner, healthier, and more interesting place to live.  Not only that, in the process you will gain knowledge and wisdom about the world, and find that we live in amazingly interesting part of the world.
 
Where to start?  Its easy-
·         Learn something about the nature around you
·         Pick up a piece of litter when you walk, or:
·         Participate in a beach or river clean-up event (you'll meet great people, too)
·         Add something new to the list of things you recycle
·         Find a way to use a bit less water or energy
·         Plant a native flower, grass, shrub, or tree in your yard, especially those that help birds.  You can contact us for lists of plants.
·         Remove an invasive plant from your yard- maybe that dames rocket at the edge of the woods, or a honeysuckle shrub?  Again, you can contact us for information and in some cases assistance with that.              For some invasives, fall is the most effective time of year to control them.
·         Support groups that protect and improve or teach about the environment- there are many excellent organizations here.
 
Not only are these easily done, they make a difference.  Nature has an incredible ability to react positively to what we do, provided we don't wait too long to do it.  Even small patches of habitat benefit all sorts of wild creatures, and may make all the difference to some of them.
 
One example might be the monarch butterfly.  Like many other animals, they are struggling to maintain their population because they have lost breeding habitat (milkweed plants) and also wintering habitat (one small area in mountains near Mexico City).  Because their wintering place is so small, and probably getting smaller due to loss of trees and climate change, a bad storm or two during winter now kills much of their surviving population.  That happened last winter, and few butterflies migrated to our area for their summer breeding cycle.  Summer must have been good to them, though, as we daily see hundreds of monarchs migrating south along the lakeshore and across our preserve.  Planting even a small patch of milkweed, along with Joe-Pye weed or asters or other flowers for the adult butterflies to feed on might help a few of them sustain themselves during their incredibly dangerous migration.  And also help some native bees or other insects, give a frog a place to hide or a garden spider a frame for its web.  It's a small and easy gesture, but it can mean life or death for wildlife.
 
So we encourage you to DO SOMETHING to help nature (there is talking about doing something, or doing).   On a large scale if you have the energy and resources, or on a tiny scale if you don't.  It all helps, and there is really no down-side.  The life you make better will surely be your own, plus those of a few other fellow beings in the process.