With school in session, I have been busy preparing for field trips. In the next 3 weeks, early 600 first graders will visit for the Cottonwood Trail program. Add to that another couple hundred students that attend the Owling 101 program, Scout programs and preschool fall hikes in October and we've got a full fall. I just love this time of year!
Serving nearly 1,000 students in one season is quite a challenge, considering I am the only full-time educator! How do I do it? Well, I certainly don't have any super powers, but I do have a secret weapon. 
They are faster than a six year old pretending to be a fox on the hunt!
They are more knowledgeable than your average bear!
They are able to crawl through child-sized brush piles!
They are……volunteer Teacher Naturalists (TNs)!
I am very fortunate to work with a team of fabulous volunteer teacher-naturalists (TNs). These wonderful, caring volunteers have been trained to teach the school programs and love to share their knowledge with the next generation. They make it possible for so many students to attend field trips in such a short time frame. They are kind of like my own band of super heroes. They are fabulous people and truly help fulfill our education mission.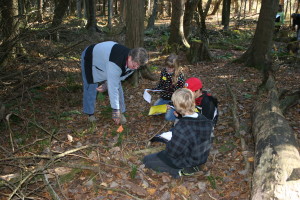 Do you like to spend time outdoors? Do you enjoy working with kids? Are you interested in learning more about the natural world? Are you available during some week days? Then I'd like to meet you! Stop in at the Nature Center and fill out a volunteer form, or fill it out online here. Once I receive your information, I will contact you.
Worried you don't know enough about nature? No problem! Everything you need to know you will learn at the training sessions. After, you will observe a couple of programs and then team teach until you are comfortable. Once you are ready, you can lead a group of students. Some TNs prefer to be helpers and assist with activities that could use an extra adult hand. You can chose your level of involvement. 
Being a TN is a fun and rewarding way to give back to the community. I hope you will consider becoming a TN and joining my band of
super heroes. What better way to spend your day than outdoors, teaching kids about nature?
Happy fall!