This summer, we've been offering Little Wings Fridays. Every Friday at 10:00am, a new theme is explored and the education staff lead a short 30-45 minute program. These programs are intended for younger children ages 3-8, but all children are welcome. The programs are designed for the parents/care givers to also participate and assist their child in exploring and learning.
Today we explored the wind! It wasn't a very windy day, but we still managed to have a fun time! First we sang a song about the wind, then we made windsocks. We hung the windsocks in a tree in the Little Wings Natural Play Area to see if it was windy.  
Then we went on a hike and looked for signs of the wind. We saw branches and leaves blowing in the trees, the water rippling over the pond, tall grasses bending and we felt our hair blowing in the light breeze. We finished off the fun playing with bubbles! We made our own bubble solution and watched the wind carry the bubbles away.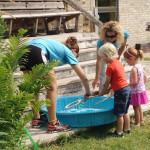 There are just two Little Wings Fridays left – August 8th and August 15th. I hope you will join us!