Written by one of our interns this summer, Kayla Walsh. 
It's official- Woodland Dunes has reached a new level of stardom. We are now featured on the cover of the newest edition of the local phone book! If you happen to have a copy, go take a look. You may recognize the berm near our nature center with the sun setting behind it. Similarly, the sun is setting on my summer internship here at the Dunes.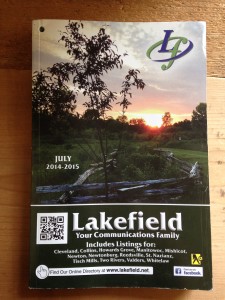 Through hiking trails, planting trees, and teaching classes, I've learned that the Dunes' beauty cannot be captured in one phonebook photo. Sure, poison ivy and deer flies can gang up on you, and sometimes kids fall into ponds… but nothing can detract from the raw beauty of the prairie wildflowers, or the first flight of a young osprey.  The little fledglings are not the only ones experiencing magnificent, new things; there have been so many "firsts" for me as well this summer.
I saw my first tadpole at Woodland Dunes and by August, I was identifying them by species. I learned some of my birdcalls too. Did you know the red-winged black bird cries "vote for me" and the chickadee hollers, "cheeseburger, cheeseburger"? I've spotted young fawns huddled in long grasses, held baby painted turtles, and walked through fields of fireflies at dusk. Most importantly, I've learned how to memorize 16 kids' names and herd them from pond to prairie. It's been unforgettable, leading 5th graders through the marsh and watching them smear mud on their faces.
Overall, my time at Woodland Dunes has been remarkable.  The natural world is ever-changing, and each day is new and exciting. I've seen first-hand how interdependent different plant and animal species can be.  I will miss beginning my days in outdoor exploration, sharing the wilderness with the blue heron and the croaking frogs. I wish for everyone to spend time in nature, to observe, discover, and explore. Thus, it feels satisfying that a little piece of this beautiful preserve can be shared with the whole community via phonebook. 
Aldo Leopold once said, "Land is not merely soil; it is a fountain of energy flowing through a circuit of soils, plants, and animals." That is what I see when I look at the phone book cover: a beam of energy reflecting my many adventures this summer and nature's stunning interconnectedness. So thank you Lakefield, for sharing this energy with the community and helping me to reflect on my summer here at Woodland Dunes. Your July 2014-2015 edition will forever be my favorite.