Ripples by Haley Vanne, Woodland Dunes summer intern
My summer internship at Woodland Dunes was filled with endless amphibian finds including wood and leopard frogs, toads, spring peepers, and even the occasional salamander! While these little guys would typically come and go in a hurry, I'd like to share an interesting household find of mine that doesn't mind our company. My family refers to him as "Porch Frog."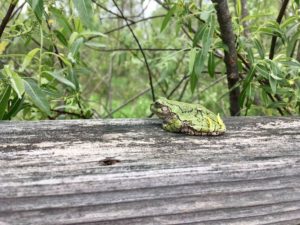 Sightings of this beautiful eastern gray tree frog (Hyla versicolor) began around 4 years ago. We had been living in our newly built house for a couple years and our landscaping was becoming more established. My mom and I would occasionally spot a tree frog perched upon the porch railing, about 1 sq. inch in size. Our property consists of agricultural land yielding absolutely zero shade, so it seemed rather unlikely for this species to seek shelter at such a location. Nonetheless, tree frogs would return year after year. In spring, I began to make the correlation that perhaps there is only one tree frog that we've been seeing.
We joked about it at first, but I've only ever seen one around the house at a time, and always in the same few spots. By the time I began to question it, the frog was still appearing like clockwork and had doubled in size. Putting this silly theory to the test, I made sure to take pictures during my tree frog encounters. I was amazed to find that the markings were the same!
He was incredibly calm compared to our regular encounters with sporadic creatures while planting trees at Woodland Dunes. (The Dunes interns are typically a whole lot more excited to meet frogs and toads than they are to see us.) When I carry Porch Frog, he has no problem remaining calmly perched atop my hand as I walk about our yard.
Porch Frog is chameleon-like in how he changes color with temperature or substrate color. Background color for Eastern Gray Tree Frogs varies from gray to green with blackish mottling.
I am incredibly grateful to have had such a unique opportunity to experience this reoccurring phenomenon that is Porch Frog. He is truly a special creature, and I hope he will continue to reappear in warm Wisconsin seasons to come!
photo of gray tree frog by Nancy Nabak