Since I was young people have joked about the climate in Wisconsin- the whole "If you don't like it now, wait 10 minutes" kind of thing.  That variability seems to be increasing as time goes on, especially in winter. 
In my late teens I attended the University of Wisconsin-Manitowoc, and experienced some really brutal winters.  My 1965 Rambler, which was parked next to my dad's barn so as to be sheltered from the wind with a light bulb to keep the battery warm, often struggled to start in the morning.  The temperature was sometimes south of 20 below zero F, and the old car barely warmed up between our house and UW.
After graduating and working in Illinois for a few years, I thankfully returned in 1993 only to be met with late December temperatures in the mid -20's below zero.  Streets in Green Bay were lined with cars with frozen gas lines.  Water pipes froze, and storm doors were caked with frost.  About that time we picked up my sister, who had just graduated from college in Milwaukee, on a day when the high was -15F and we were just about the only vehicles on the recently opened I-43.  It was an exciting, and miserable time to grow up.  On cold nights, the walls of the old farmhouse would thump as they contracted- trees and ice on the Manitowoc River did the same.  
This year we are experiencing another extreme where sandhill cranes and Canada geese are still hanging around, and earthworms were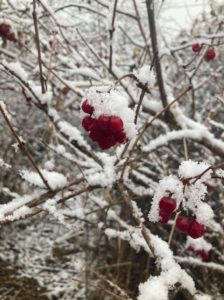 crawling on the driveway on the 16th of December.  The weather seems to swing wildly now, instead of the rock-solid cold of much of the past.  According to the USEPA, the climate has warmed 2 degrees F in the past 100 years.  That doesn't sound like much, but it is, and it affects many aspects of the world around us.  It results in less snow, more ice, and greater fluctuations in both temperature and precipitation.  It will result in more precipitation in the summer, and more events which are extreme in terms of precipitation and result in flooding.  Winter sports are likely to be hampered, agricultural output may be reduced, and migratory birds will have to adjust their timing during migration.  Still, the overall impact on the Great Lakes is something we don't understand- warmer water may favor bass over trout and other cold-water fish.  And warm- loving trees and other plants over the colder species.  It is likely that the changes will be gradual, but in the end profound.
While it is possible for me to reflect about the changes I perceive over time, I could certainly be biased. What isn't biased the fact that carbon dioxide in the atmosphere has increased by 40 percent since the 1700's.  That is a significant difference, and it would be very unlikely for there not to be some effect.  So while I enjoy not having extreme cold and snow to deal with, those earthworms on the driveway may be something to be interested in but not necessarily feel good about.  With all that's happened in the past few years, we could all use something to feel good about.
Photo- highbush cranberries at Woodland Dunes by Nancy Nabak, December 2021