As I write this, the first two Manitowoc County counts for the 116th annual Christmas Bird Counts have been completed, in the northwest and southwest parts of the County. Due to a busy work schedule, I was only able to participate for a couple of hours each day, but as always the counts were unique and interesting. The first, or Menchalville count (named after the place at the count's center), took place on a gloomy, rainy, and blustery day. Four students, Tayten, Georgia, Leah, and Makayla, who attend the Denmark Community School, went with me as part of their independent bird study project. We counted from the road in the northwest part of the county on a day when no sensible bird should have been out, so I'm afraid we found only the bravest or dumbest of our avian friends (not really).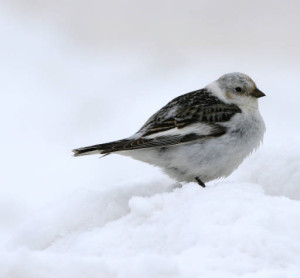 Even with the terrible weather, we recorded more than a dozen species that included a red-tailed hawk and an American kestrel, lots of herring gulls and crows, and a smattering of songbirds such as chickadees, juncos, and house and gold finches. We had some interesting conversations about birds migrating or not migrating on years like these, and why there is no such species as 'sea gull' (there are many species of gulls, but none with that name). The second, or Collins count, took place on a cold, blustery, dry day which again caused birds to hunker down in protected places. Except for the raptors, that is! Jessica from our Woodland Dunes staff, Charles Sontag (the Godfather of Manitowoc birders), and I again traced roads in the Collins area and found a remarkable number of hawks- five bald eagles, more than a dozen red-tails, harriers galore, kestrels, and a rough-legged hawk or two.
We found goldfinches visiting bird feeders, juncos and snow buntings in fields, tree sparrows, and even a few woodpeckers. The Christmas bird counts were begun as an alternative to the indiscriminate "side hunts" that were done at Christmas a century ago, when hunters shot basically anything that moved. Christmas counts gave rise to the National Audubon Society, which has since existed to promote the protection of birds and other wildlife. This annual activity gives us a snapshot each year of bird populations and distribution throughout North America, and is the longest-running citizen-science activity on the planet. In addition, it gives birders young and old an excuse to venture out and see what interesting wildlife they can find. And share stories of Christmas counts past while enjoying each other's company.