Years ago ospreys weren't seen in our area.  They, like other birds of prey, were susceptible to the insecticide DDT, which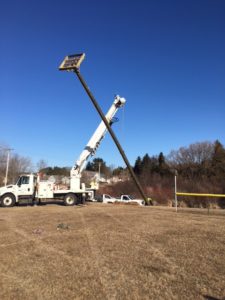 caused their eggs to become brittle and easily broken.  When I was young, ospreys and bald eagles were rare in Wisconsin.  Fortunately, people cared enough about these animals to require that alternatives to DDT be used, and over the years the birds increased in population.  Now, it's not uncommon to see eagles here year round, and ospreys in the summer.
Ospreys seem to do well around Two Rivers, and have nested at Woodland Dunes for perhaps 20 years now.  Last year there were two nests at the Dunes, plus others at Shoto, Mishicot, Manitowoc, Collins marsh, Kewaunee, and probably other places.  One additional and particularly interesting spot was at Vietnam Veterans Park in Two Rivers- a popular place for baseball and softball games.  At that park, which lacked a nest platform (ospreys had never nested there before) the birds several years ago decided to build a nest on light fixtures over the ballfields.  While this is not an ideal situation, as there could be problems with heat from the lights as well as the possibility that the birds could drop branches onto the field below,  the ospreys found a way to make things work and raised broods of young birds.
Baseball and softball are popular sports in Two Rivers and the facilities in the park needed to be updated, including the lighting for the fields.  The Parks Dept. contacted Woodland Dunes last year to ask when the ospreys would migrate south so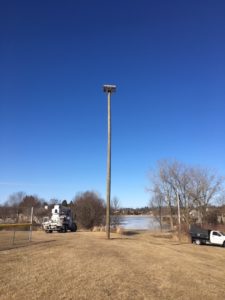 that they could plan for replacing lighting without disrupting the nesting birds, and indeed the lights were replaced in fall long after all the birds had left.  However, their old nest had to come down with the old lights, and there was concern about what would happen when the birds return this spring.  Neighborhood residents who had watched the birds in past years were also concerned that they would be displaced.  Fortunately, the Two Rivers Parks Dept. was open to discussing the possibility of placing a separate nesting platform for the birds, and Steve Lankton, who is very interested in raptors, offered to donate the funds needed for the project.  Moreover, Two Rivers Water and Light was willing to put up the pole and platform, which was built at Woodland Dunes.
Last week, on a sunny, cold morning, the pole and nest platform were installed.  At this point, ospreys on their spring migration have already been seen as far north as Chicago, so this is being done just in time.  Most importantly, I think this is a wonderful example of four different interests coming together to do something positive for wildlife with minimal effort or public expense.  This reflects well on our community, and shows that we are willing to find ways to think beyond the ordinary, and give nature, in this case a formerly threatened bird, a chance to share our space.  
That willingness is one of the reasons that this a great place to live.