We have always celebrated the return of migratory birds.  We miss them so in the winter, and when they return, just as trees and the first wildflowers start to bloom, it seems the natural world is reborn again. While our winter resident birds are dressed in somber tones- gray, black, white, brown, with the exception of the handsome cardinals, the return of colorful birds which winter in the tropics is a cause of wonder and excitement.
Even though there aren't as many birds as there were in the past, we appreciate them as much as people did long ago.  At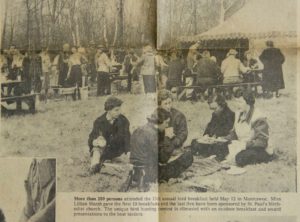 Woodland Dunes, we gather for our Migration Celebration and Bird Breakfast each 2nd or 3rd Saturday in May, at the peak of migration.  We didn't come up with the event on our own, however.  That was done by our birdwatching ancestors.
This year is the 80th anniversary of the first Bird Breakfast.  That was invented by legendary Manitowoc birdwatcher and librarian, Merle Pickett.  Merle would challenge her birding friends to a friendly competition to see who could find the most species of birds in one morning in May. Dozens of birders would head out and comb the county, looking for common and uncommon species to add to their lists. Afterward, they would convene at Merle's home and enjoy a pancake breakfast and share their finds. Dave Crehore recounts one such event he and his father participated in during the 1940's in his book "Sweet and Sour Pie," an excellent telling of local history in the eyes of a local youngster.
After a while the breakfast moved to First Presbyterian Church where it was celebrated for a number of years.  The format remained the same- birdwatching followed by a tasty pancake breakfast. Hundreds if not thousands of people continued to attend over the years.
And then, it was our turn.  In the 1970's, Bird Breakfast became an annual event at Woodland Dunes, where it has remained to the present. At first, when Woodland Dunes consisted of a farmhouse without a kitchen, breakfast was made by participants themselves- pancakes, eggs, bacon, cooked over charcoal grills. In the 1990's, when facilities were improved to include a small kitchen, the breakfast expanded and became a bit more comfortable. Large charts were hung on the walls to record the birds that were seen that morning, and experienced birders led hikes for the public. Later, children's activities were added, all centered on migratory birds. Bird Breakfast became a family event, not one just for birders.
Of course, Covid cancelled our breakfast a couple of years ago, but last year the event returned as a drive-thru, take- out meal. This year, however, with our new facilities plus expanded indoor and outdoor dining areas, the event will be back to its previous format- guided bird walks, and a sit-down breakfast. The birds are arriving just in time, and we look forward to an active, friendly, joyful morning spent appreciating our traveling feathered friends and their long and difficult journeys.
Our Bird Breakfast is perhaps the oldest birdwatching festival in the State.  We are so glad to be able to host it, and to do so as we did for years.  If the weather cooperates, we'll have a wonderful morning.  If interested in joining us, the breakfast is on May 21 from 8-11 am, the cost is $6, and we ask that people pre-register by contacting the Nature Center, 920-793-4007.  All are welcome to help us keep the tradition alive.