I have fond memories of playing outdoors when I was a little girl. I remember making potions with dandelions and violets, picking and eating cherry tomatoes in my great grandfather's garden, cracking open milkweed pods and watching the silky seeds flit and float in the wind and making mud pies at the beach. In fact, many of my earliest memories involve playing outside.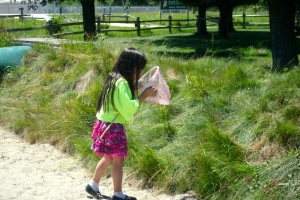 This summer, your young children can make their own outdoor memories at our first ever Little Wings Summer Camp! This camp is specifically for children ages 4, 5 and 6 who have not completed kindergarten. The camp will take place from July 13th-17th from 9:00am until noon at the Nature Center. Each day, we will learn about something in nature that has wings – think bees, birds, seeds and more! The Little Wings Outdoor Play Area and the Nature Center will be the home base for programming, but we will stretch our wings and hike the trails too.
The week will be full of outdoor exploration, nature play and good old-fashioned fun! Families are invited to join their camper and celebrate with us at 11:00am on the last day of camp. Registration is now open and space is limited. You can register your child on our website or stop at the Nature Center. If you have questions, please email Jessica or call 920-793-4007.